I found this tank on Craigslist. The tank, sump 80 gallons and little green pump, I found for only $800.00. This tank is older and had to be re-sealed. The GLASS is 3/4 inch thick which makes the tank by itself 800lbs dry weight. I spent a week inside this 6 1/2 foot long 3 foot tall and 2 1/2 foot wide tank, pulling old seals and resealing. Very time consuming and stinky. If you reseal TAKE YOUR TIME!! The picture below is me standing next to the tank and the other one is a 50 gallon cooler sitting next to it....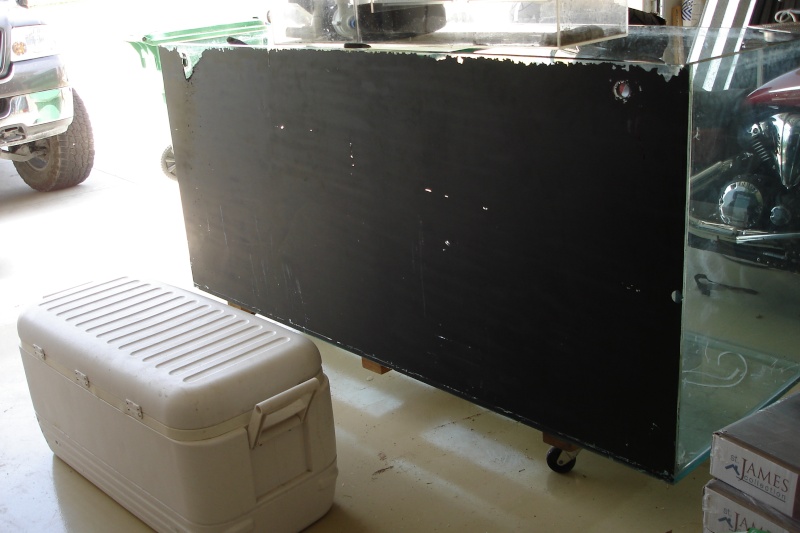 After the reseal I found a cabinet builder and had them come to the house and custom make the stand in my driveway. I had the tank built for my specifications, example....its my tank I want to see everything at eye level at 5 foot 2'. The stand is 42 inches tall, with a single set of double doors. The canopy was made and finished the top by sitting flush with the ceiling with crown molding around the top. The entire tank, stand canopy measure a total of 8 feet tall. Once it was built I stained it to match the floors in my house. Total cost on stand $600.00.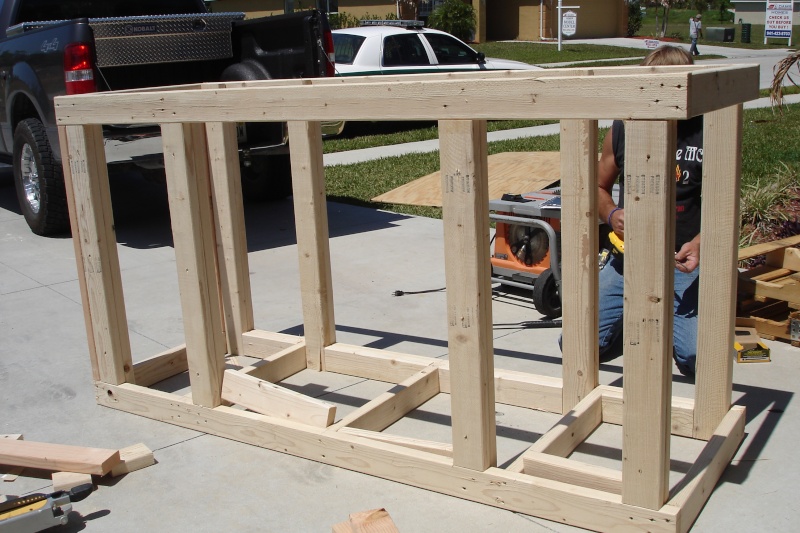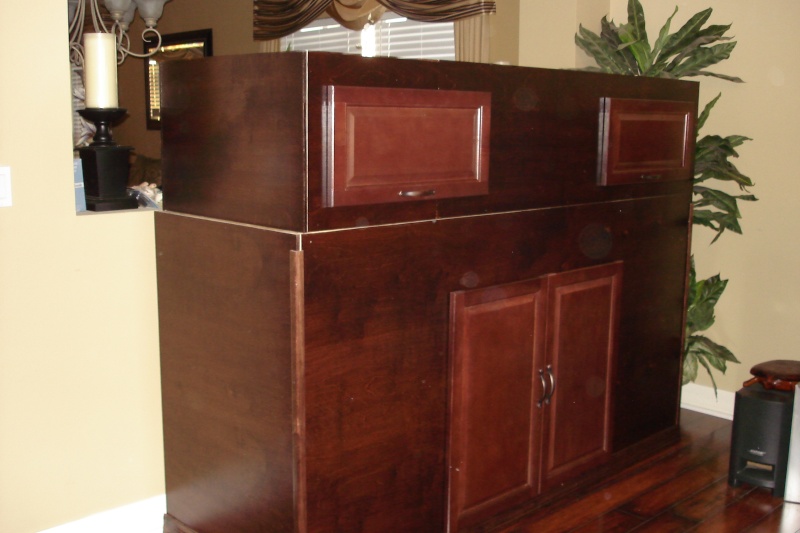 I found 6 young strapping men (LOL)to lift the tank onto the stand. All 6 still struggled to lift the EMPTY tank. Once the tank was on the stand, it only gave me less then 2 feet to install rocks, drift wood, sand, water and fishes. The tank is in my living room where the TV is and up against a wall with a cut out so the tank can be seen thru to the next living room and as you walk in the front door its the first thing you see!
The tank sat cycling for 2 weeks until I placed sacrificial fish into the tank, a zebra malawi and a ice blue malawi. Both survived a week and were able to find their hiding spots before I released the big fish.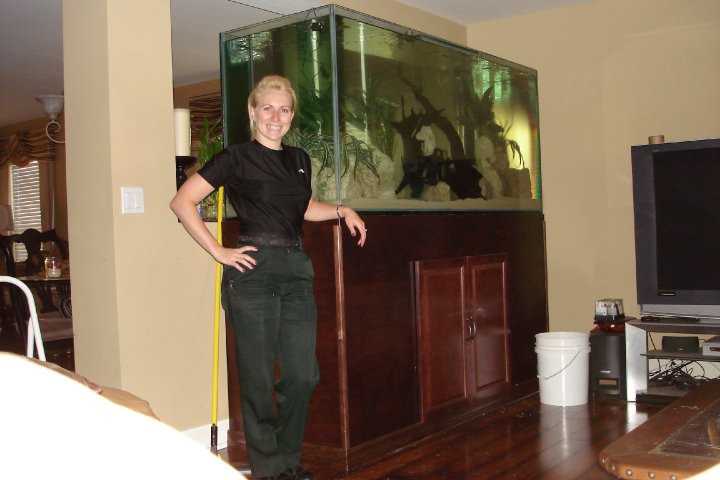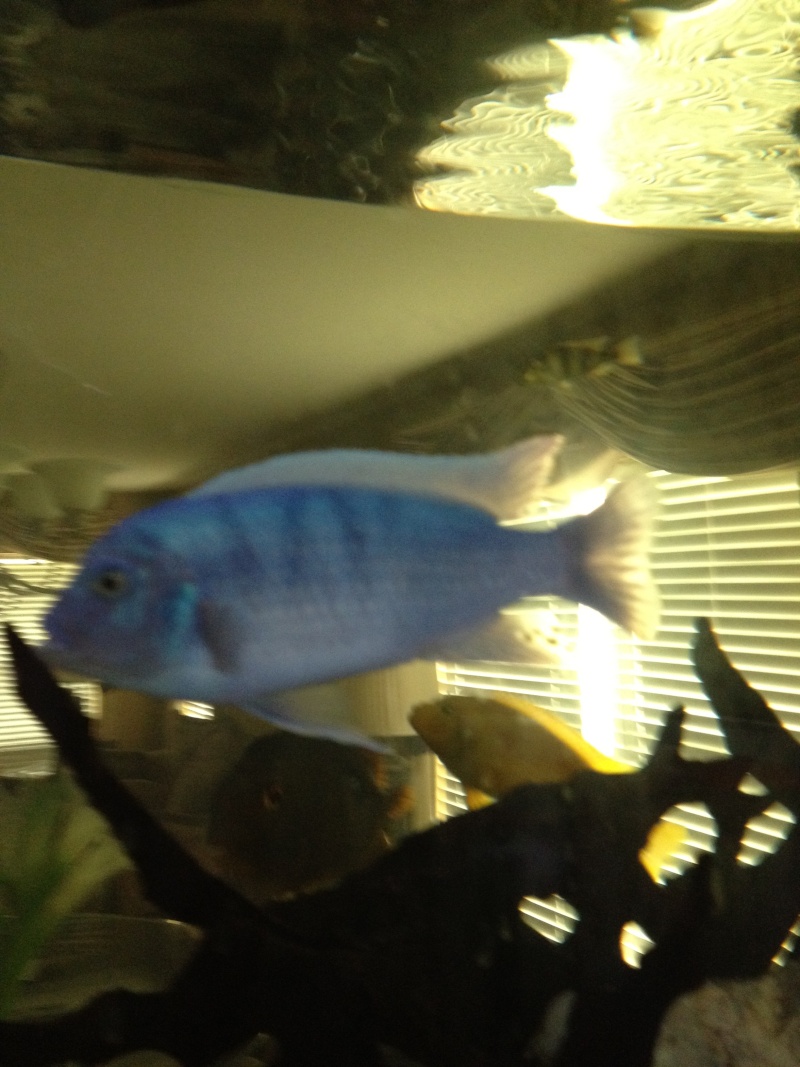 Sacrificial lamb all grown up! He is my male breeder. The babies are blue and orange. The orange males are iridescent and sooo cool looking!
I began to hear a loud noise....and yup the pump BLOWS! It was an old model that required oil. I had to spend 300.00 on a new pump that does NOT require oil!
I transferred my fish from a 55 gallon...yup 55 gallon to 350 gallon, heck of a step up.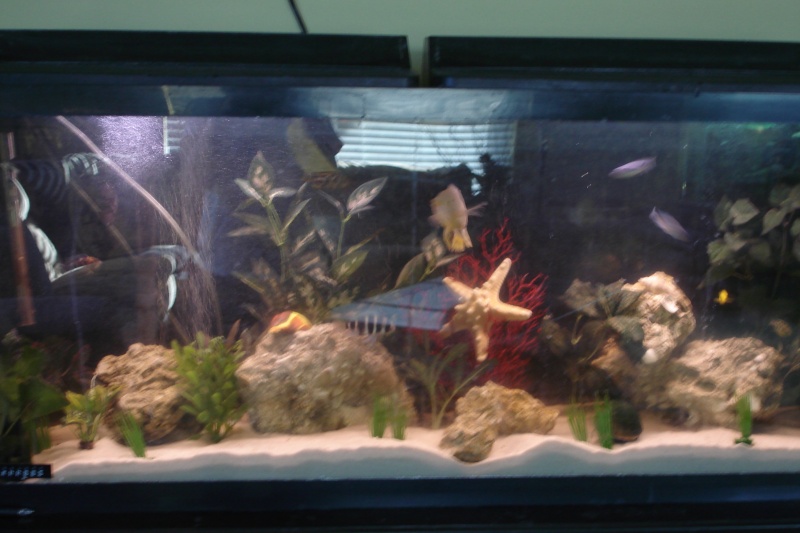 Fish transferred:
3-4 inch Frontosa
5 inch Albino Fancy finned Oscar (very docile)
2 inch Tiger Oscar
4 inch Green Severum
3 inch Female Venestus's (3)
2 inch male and female Yellow Labs
3 inch bumble bee cichlid
8 inch Freshwater snowflake eel. (properly named Ee-ly)
2 inch Jewels (2)
2-4 inch Orange and Blue Malwai's
All adjusted FINE and no problems since they all loved each other in a very small but habitable 55 gallon.
All my fish doubled if not tripled in size in the matter of a few months.
Since the setup of my tank over two years ago, I have had deaths, births and adoptions.
I had a terrible outbreak of an unknown bacterial problem that claimed numerous lives. Huge water changes and a cure all from Petsupermarket, healed them every time. I use parasite guards and melafix frequently to avoid any possible outbreak and it works great! Including Eely, about 3 months ago. Eely lived well past his age limit (2-3 years) for a captive Eel 4 years. Eely was a enormous 24 inches long!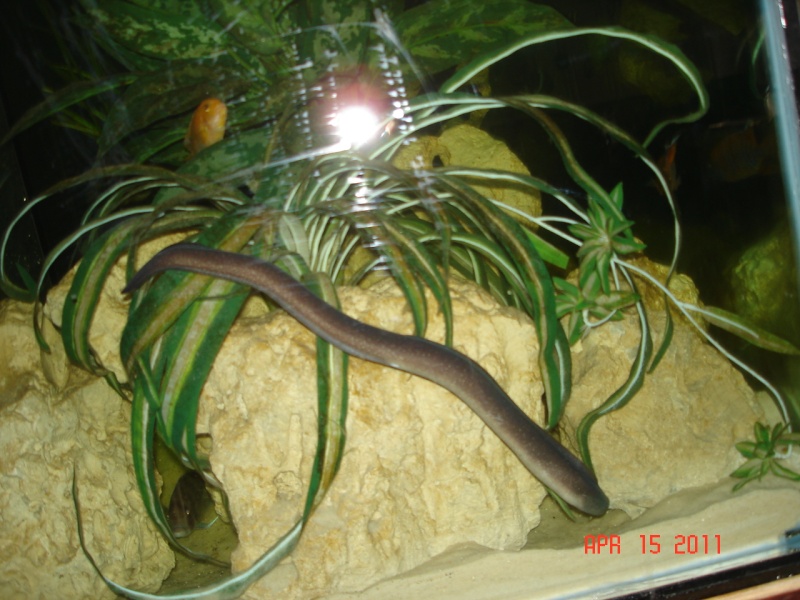 After Eely died I spent the money and invested in a UV sterilizer. The water is crystal clear and no problems since!!! HIGHLY RECOMMENDED!!!
I have introduced mates to my favorite fish.
A male Venestus 8 inches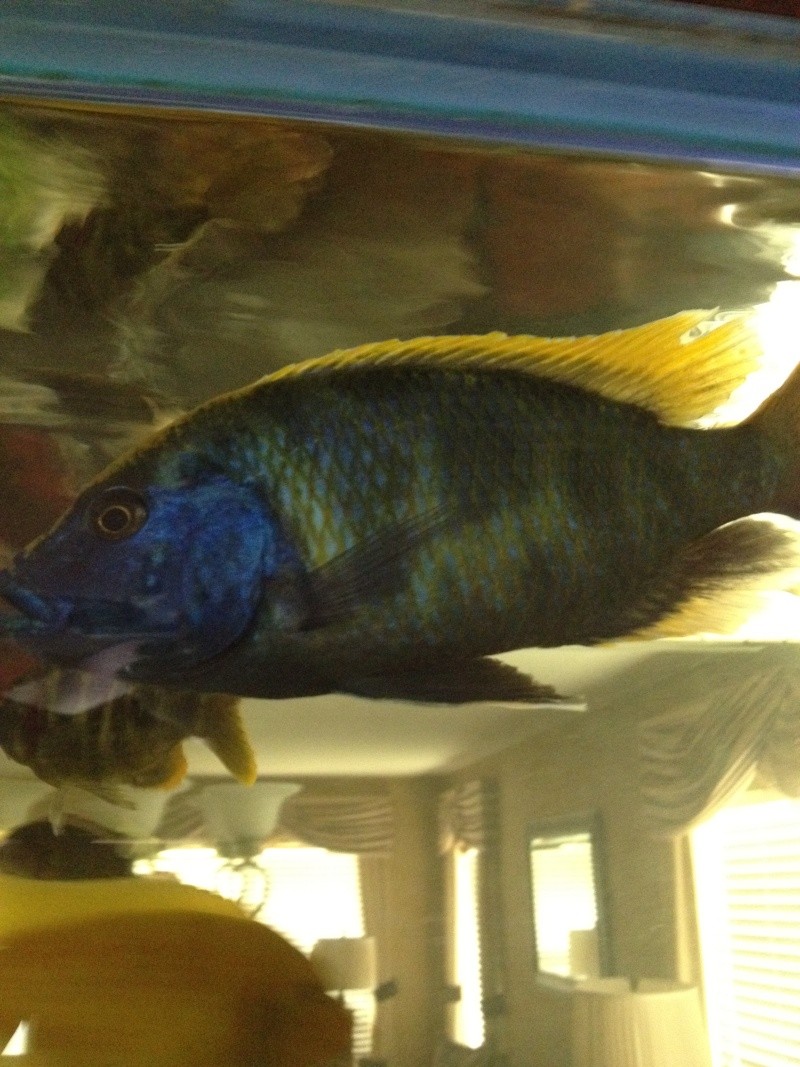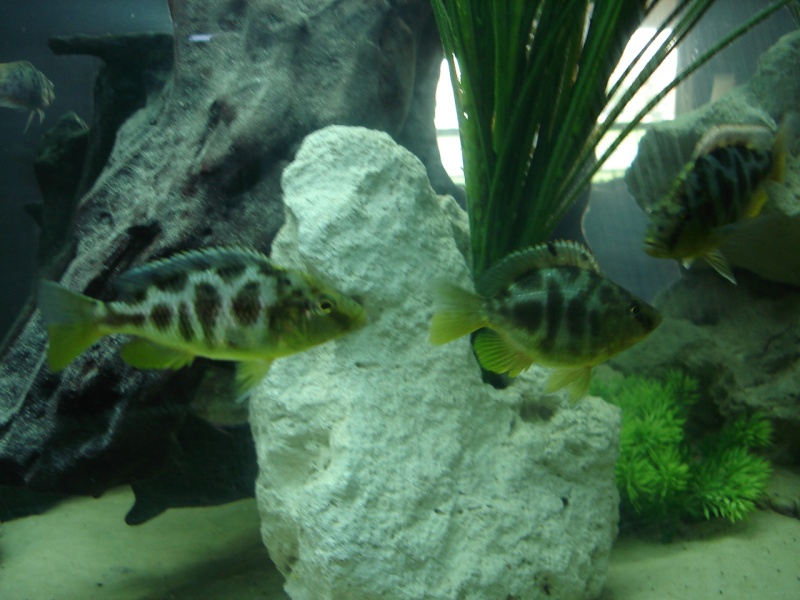 My Female Frontosa for my male. I traded a 70 gallon tank and stand for her....damn fish is expensive. Nothing yet and he chases her....its a love hate relationship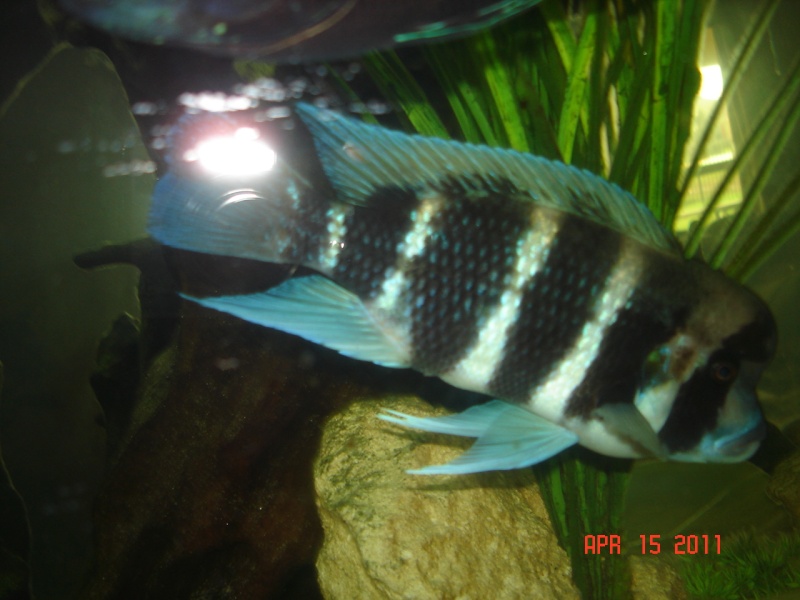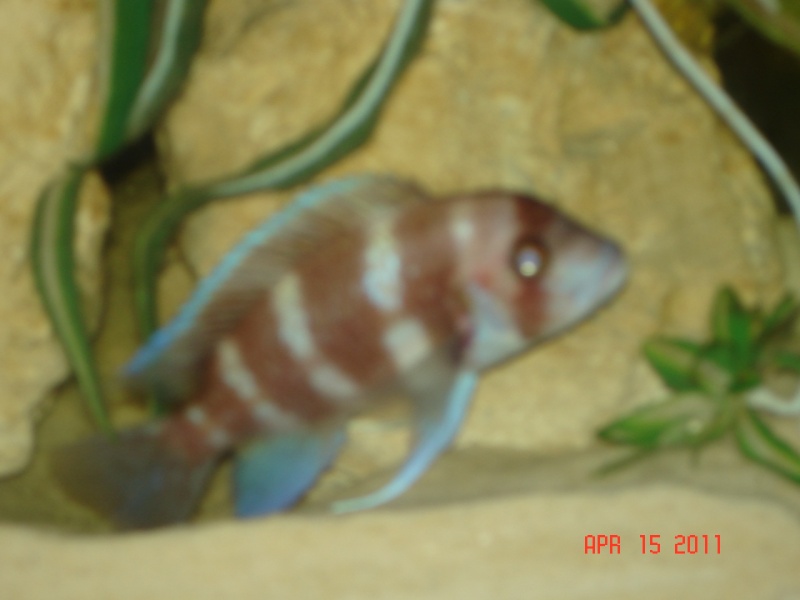 Current tenants:
2 Red Jewels
3 Venestus triple pair
2 Frontosas pair
1 yellow lab
2 Nicaraguan pair
1 bumble bee
1 severum
1 jack dempsey
1 black shark
1 Pleco
2 Zebra Obliquidens pair
1 yellow malawi
1 ice blue malawi
1 Bay snook
1 Auratus Cichlid male
1 Albino Fancy Oscar
1 tiger Oscar
approx 20 Malawi orange and blue Fry 0-2 inches
1 Venestus Fry 1 inch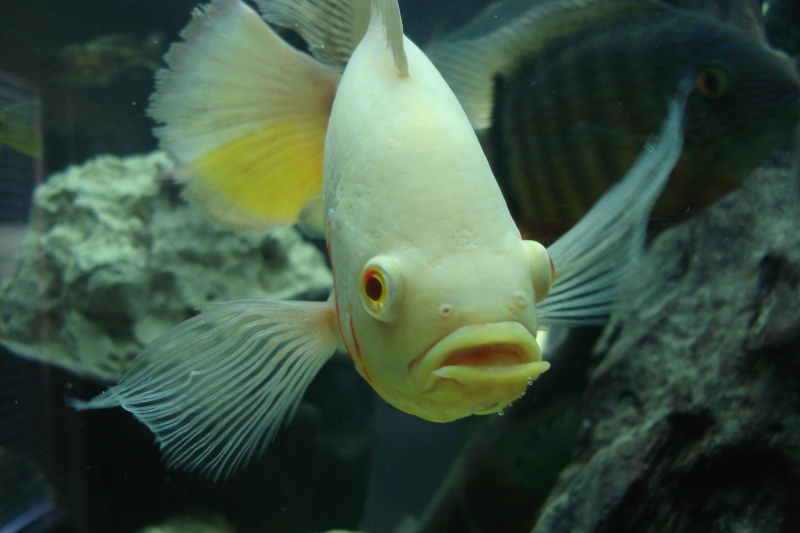 All of my fish are full grown adults except the Fry ranging in sizes of 10 inches to 5 inches with most fish around 8 inches.
For a true size comparison the photo below is a 60 inch television sitting next to my tank...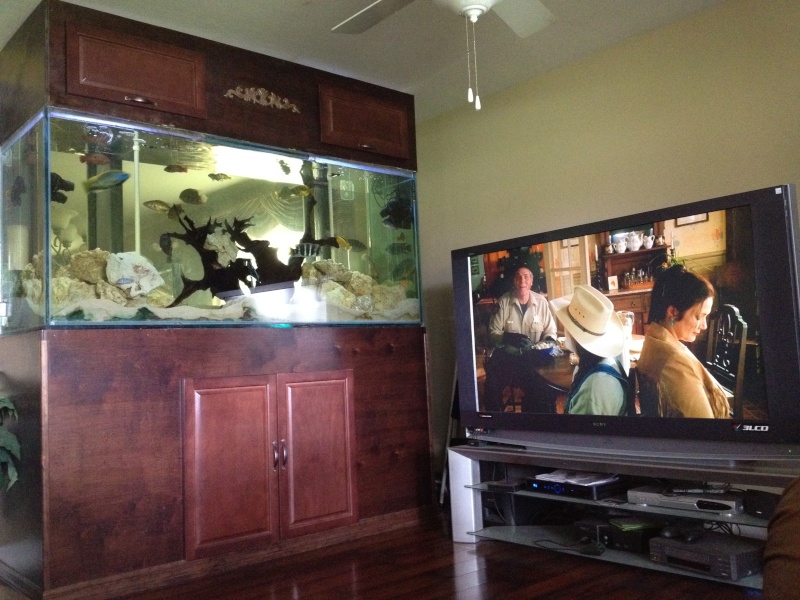 I currently do water changes once a month of 100 gallons.
I use the hose system that Aqueon has and use an extension to reach the faucet. Best 75.00 Ive ever spent!! There is no lifting 5 gallon buckets of water.
Advice: if you have a huge tank buy POND products! just as good and way cheaper!
I'm open to messages if you need anything! unfortunately Ive learned through trial and errors over the years!